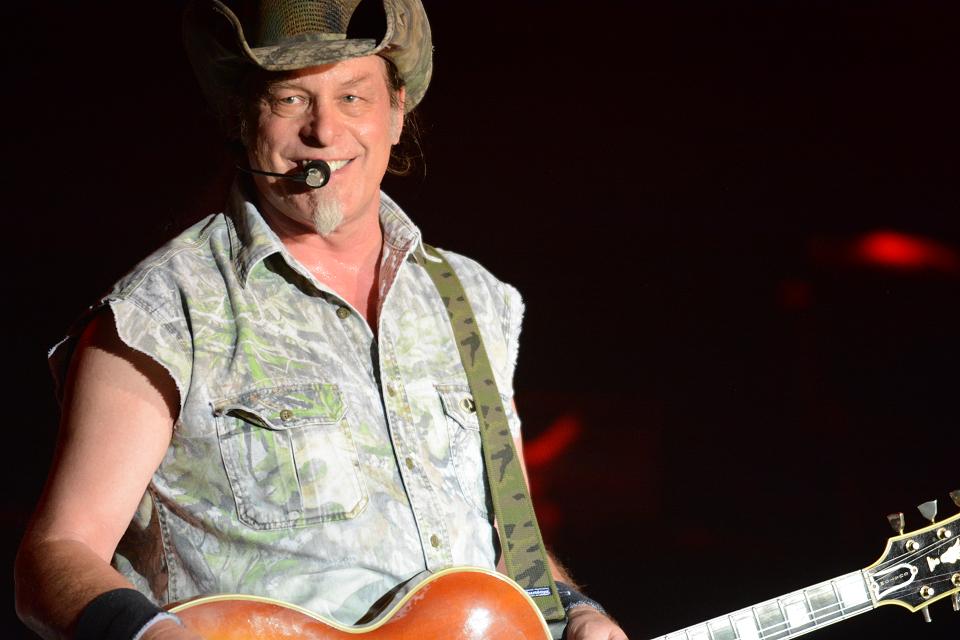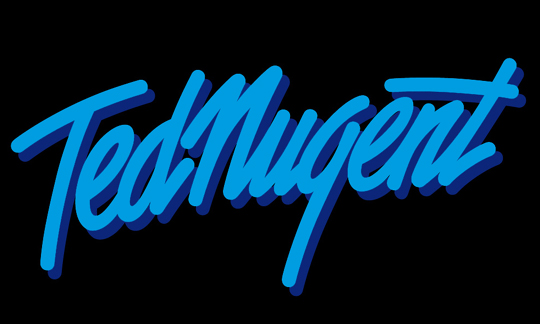 08/31/2013 Silver Legacy Resort Reno Nevada

" My name is Ted Nugent and there's not a thing you can do about that"

    That kind of attitude summed up this night of rock n roll at the Silver Legacy Casino in Reno Nevada. Uncle Ted came into town and the Motor City Madman rocked the fans with a selection of over forty years of music.

    The show stared with Ted's classic scream as his all star band ripped into "Gonzo". During all this smoked filled the stage and back lights silhouetted Ted and the boys. The reception from the 1,300 fans of all ages packing in the Grand Exposition Hall was deafening.

     After a few songs Ted started talking about all his love songs. He introduced the next song as one of his best " Wang Dang Sweet Poontang" off his 1976 release "Cat Scratch Fever". A truly classic love song.

     The band that Ted has put together for this tour is amazing. Long time on and off band mate and friend Derek St Homes (Scott,MSG) has been back for the last few years and his vocals sounded flawless. The full rich sound Derek brings with the second guitar just enhances the bands live sound. On drums is Mick Brown (ex-Dokken). Mick was a wild man on the drum set this night drumsticks high in the air over his head. A great skinsman to have providing the backbeat. Joining Mick in this backbone endeavor is Bassist Greg Smith who is also providing vocals. The band had a very obvious chemistry which I have not noticed on several of Ted's previous tours.

    After ripping though the classic's "Free for All" and "Stormtroopin" Ted brought up the fact that tomorrow morning is the Dove season opener. Ted seemed pretty excited about this annual day of birds falling out of the sky. So much so he asked how many woman where heading out tomorrow hunting. By the high pitched scream he received back he could tell that his next song would hit the mark. "Queen of the Forest". He dedicated this song to the hunting women in the crowd.

    Now this wouldn't be a Ted Nugent show without his opion on the state of our government. Uncle Ted did not hold back. He talked about his distaste of the current political climate and thanked our service men,woman, and their families for their commitment to our wonderful country. Weather one agree's or disagree's with Ted's political outspokeness you have respect the man for speaking his mind and fighting for what has made this nation great. We applaud Uncle Ted !  After he thanked our service men/woman he dedicated "Fred Bear" to them. This was the best song of the evening.

    At age 65 Ted is rocking and sounding harder then ever. There was no sign of fatigue by the end of the set. This was his best performance out of all the times I have seen him since 1984's "Penetrator" tour.

    If Uncle Ted is rolling into your neck of the woods soon do not miss your chance to see an American Icon perform. If you missed the chance to see him don't fret........In October 2013 he will release a live 2 CD/DVD titled "Ultralive Ballisticrock" sure to be another Ted classic.

Fred Tavernier

Rocknrollreview.com

    Ripping through most of his 1970's set Ted started dabbling away on the guitar then abruptly stopped and said "This is the most recognized guitar riff in the world". The place went crazy as Ted shredded into "Cat Scratch Fever". A true timeless rock n roll gem. The band followed this up with "Stranglehold" in which Derek St Holmes sounded great with his timeless lead vocals. The show ended with the song "Great White Buffalo" and the crowd let the band know they didn't want it to end.