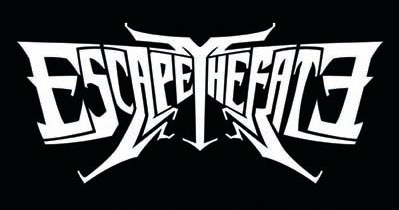 04/18/2012 Senator Theater Chico CA

   What a difference a year makes. Last time I caught these guys  was on last years UPROAR tour. At that time the band was a four piece with only singer Craig Mabbitt and drummer Robert Ortiz being the main stay players.  Black Tide bassist Zakk Sandler and a hired gun guitarist Kevin Thrasher were standing in for the time being.

    In the Escape the Fate world it has been well documented the line up changes due to personal issues. It seems the problem has been dealt with internally and the band has emerged stronger now as a five piece. Escape the Fate still has Mabbitt and Ortiz but now they welcome back guitarist Bryan "Monte" Money  joined by his brother Michael Money also on guitar. The band also has brought in new bassist Thomas "TJ" Bell.

    A very young crowd was on hand to see the show in Chico CA. Not a shocker being that this is a college town. A lot of energy started brewing as the house lights went out and the chant "Choose your fate" rose from the crowd. The band came out full force with the new line up and finally sounded complete. Bassist "TJ' Bell immediately climbed out onto the security barrier starting a frenzy in front of the stage as he worked the crowd.  A very solid wall of sound and energy came from this young band as they ripped through several of their classics including "The Flood", Gorgeous Nightmare, and "This War".  The two brothers, Monte and Michael, on guitar worked very well together and one could sense the cohesiveness between the two. Very fresh !  Singer Craig Mabbitt is a very solid front man that fits this bands style and his voice sounded fantastic this night. On drums is Robert Ortiz, one of my favorite of the new up and coming drummers in the rock world, and he was on fire. That pretty much is all I need to say about Robert. Overall an incredible show.

   Tonight Escape the Fate came out with their new line up showing us all that the problems the of past are behind them. The guys performance this night was a testimonial to this. A very tight sounding cohesive line up that if it stays together will be one of the premier upcoming rock bands.

   The "This World is Ours" tour has a lot of more dates throughout the nation. I can't recommend this tour highly enough. I'm glad I got to witness this show and you should not let the opportunity pass. A great rocknroll show for a great ticket price.