03/30/2012 Grand Sierra Resort Reno NV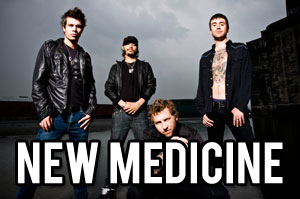 New Medicine was the one band on this tour I was really looking forward to see. Not to take away from the other two bands by any means but I really dig their album "Race You to the Bottom". This night was the first sell out for the Avalanche Tour. By the time Dan, Jake, Ryan and Brady hit the stage the Grand Sierra Theater was at capacity. This upcoming young  and talented band came out to a raging reception from the Reno NV crowd. They tore through several songs of their aforementioned release including "End of the World", "Rich Kids", "Laid", the current radio hit "Race You to the Bottom", and "Little Sister" a song Jake told the crowd he wrote and dedicated to his sister that had passed. It's a killer tune.

   New Medicines live show and sound transforms into pure energy with excitement and for this show the band had all guns blazing ! There was a real freshness coming from this band and the crowd was buying into it. Dan Garland and Jake Scherer had a really cool duel guitar sound going this night. Very tight complement ! Bassist Matt Brady was enjoying the sold out show working the crowd hands in the air. Kicking it behind the drums keeping all this craziness together was Ryan Guanzon.

   After the show the guys in New Medicine were mingling with the crowd as they exited the theater. The whole band took time out to have one on one interaction, selling their cd, pictures and signing auto's.   It reminded me of my early to mid 80's club days when bands themselves did their own promoting after shows except back then it was homemade cassettes. I had the opportunity to talk to Dan, Jake and Brady. Real down to earth guys that all initiated their time to ask my son his name and thank him for coming to the show. Again a breath of fresh air in today's rock scene.

  I'll warn all of you now. New medicine is a up and coming band to take notice of.

  I will never miss the chance to see these guys live again.

Photos at bottom of review. Shot from photo pit