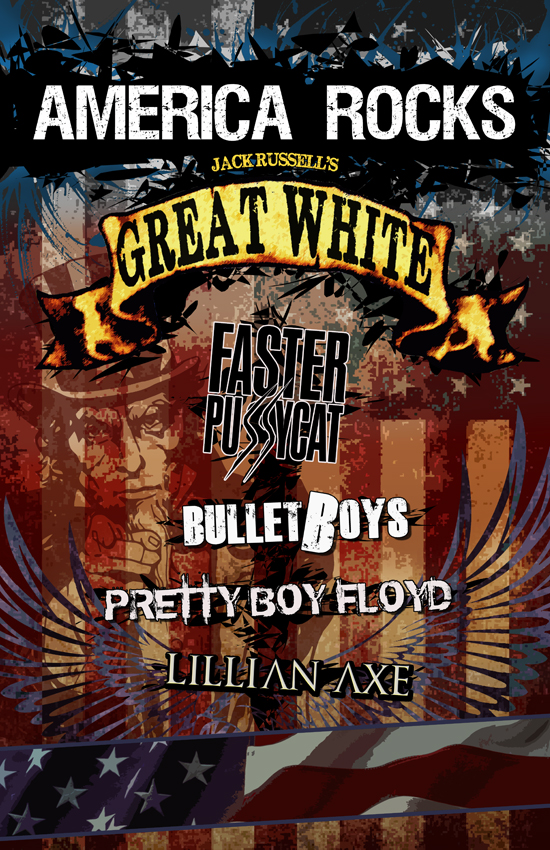 06/15/12 The Avalon Santa Clara CA

   What a great line up this tour brings us. Five of the 1980's major players on one bill. Headlined by Jack Russell's version of Great White. The offering includes Los Angeles finest Fasterpussy Cat., The one and only Bullet Boys. The underrated  and awesome Pretty Boy Floyd and opening the show is Lillian Axe featuring the incredible guitarist Steve Blaze. The show had a $25 ticket price which is unbelievable for these five bands. This was opening night of the tour in Santa Clara. It will be making it's way across the country in the next few weeks don't miss out on a great show.

   Below are a few words about each band and photos.

    Opening the show and touring in support of their new release "The Days Before Tomorrow " are New Orleans based Lillian Axe. This band features one of the guitar greats of the 80's Mr Steve Blaze. The first three bands on the bill got to play six songs. Lillian Axe played three off the new album and three off earlier releases. The band was flawless coming out to a crowd of about 60 in the venue and no one on the floor but me. By the end of their second song the floor was quickly filling. A brilliant show by a very talented band.

    Pretty Boy Floyd made for a quick night and review. This was the band I wanted to see the most on the bill. We were treated to the classic "Leather Boyz with Electric Toyz" as the opening tune then things went bad. Somehow plugs got put in wrong places and sounds wern't right. The guitarist Kristy Major didn't care for his sound and found some lines pluged in wrong and him and the drummer started a shouting match at each other then Kristy pack up his guitar and left the stage . Show over.